Online Pivot Table Tool
Select your raw data file (csv, xlsx, json or sav) and get instant explorable pivot tables
Or sign up to AddMaple and get an instant explorable summary of your data file
How it works
We turn your data columns and rows into pivot tables in seconds

Handling and analyzing data can be challenging, especially when working with large and complex spreadsheets and datasets. This is where AddMaple's online pivot table tool can save you hours!

We automatically calculate and summarize each column from your data and turn them all into pivot tables in seconds.

After you get your graph summary from your data, you can:
further segment your pivot graphs
apply additional pivot columns for multi-parameter pivot graphs
share interactive pivot graphs with toggle options to view total counts or percentages
embed interactive graphs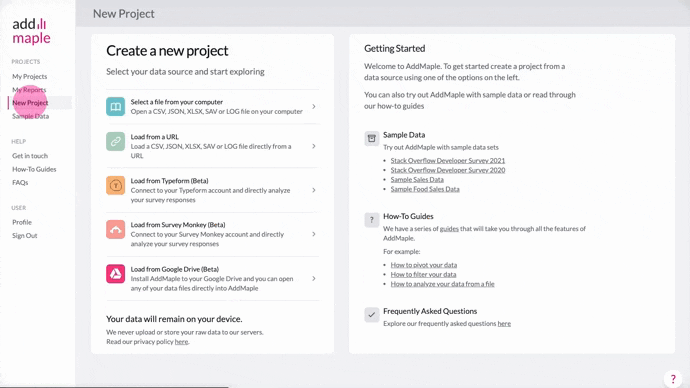 Save hours! Save tears! No more:
file formatting and file preparation - we handle that for you
complicated spreadsheet functions
long loading times
crashes
lost work
Below we explain how it works:

Step 1.
Select the data file
Step 2.
Wait for AddMaple to clean and format the file, calculate each column, turn every column into summarized graphs.
Step 3.
That's all you need to do. Scroll down to see your columns auto-calculated and summarized into pivot-charts. You can now focus on interpreting the results and sharing your insights. We also have an interactive report tool that you can use to publish your written insights and graphs. Our reports also have the ability for you to make certain columns explorable to your readers so they can explore some of the data themselves.
Which types of data files can AddMaple turn into pivot tables online?
AddMaple supports various file types. We recommend CSV file exports above all. You can also use data from various sources like Typeform, Survey Monkey, Google Drive, Microsoft Excel, or SPSS. We are constantly adding other file types and making improvements. If your file type is unsupported, contact us via hello@addmaple.com and let us know.
What else can I do with AddMaple?
Beyond just creating pivot tables, AddMaple offers more ways to engage with your data.
Our online pivot tool allows you to:
Click on a chart bar to segment and filter data by that bar parameter
Add multiple filters and filter types
Swap pivot columns
Cross-tabulate your data
Share interactive graphs you create online or on Slack
Add graphs to an interactive report with explorable graphs for your readers to further segment and investigate.
Try it for free now.
What is AddMaple?
AddMaple is an online tool that turns your raw data into explorable charts. No preparation required.
All columns are automatically visualized, categorized and summarized
Numeric columns are detected, calculated and grouped into ranges
Automated analysis of "all that apply" multi-select questions
Easy to use multi-level pivot tool
Intuitive filters
Easy chart creation and sharing
Export to CSV
AI generated summaries of free text columns
Publish explorable reports (with password protection options)
Your data stays on your system, ensuring privacy and speed

Try our other tools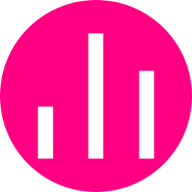 Loading...